NetEase Games and Behaviour Interactive announces the release of Dead by Daylight Mobile's massive new update. Introducing graphical upgrades, new features, and new content.
The update kicks off with the Sadako Rising Collaboration event, which will run from March 15 to March 28 and bring the monstrous spirit from the Ringu franchise into the game.
Dead by Daylight Mobile Relic System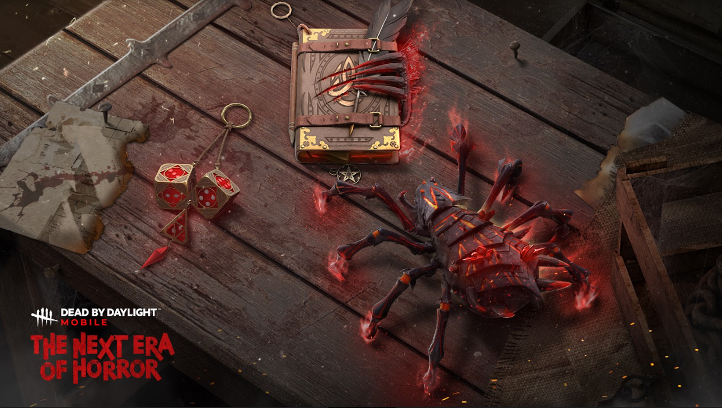 Dead by Daylight Mobile introduces the mobile-exclusive Relic system.
The relic system introduces items like the Knot of Binding and the Handy Axe, that shakes up the gameplay and introduce new elements into a match that will force players to shift their tactics on the fly.
Rewards are awarded in using of these tools, as collecting Relic Shards and upgrading the Relics will unlock stunning cosmetics. These rewards can be displayed in the in-game lobby and player profiles.
Dead By Daylight Mobile X Sadako Rising Collaboration Starts On Launch Day!
Sadako kicks off the Dead by Daylight relaunch. The vengeful ghost from the Ringunovel and movie franchise will be available to acquire from March 15 to March 28.
For the unfamiliar, here's the skinny on who she is and how she plays in the game:
Sadako is the spirit who can strike down anyone who watches a cursed VHS tape and can pursue her targets through television screens. In Dead by Daylight Mobile, Sadako is a ruthless Killer who uses stealth to hunt the Survivors. Additionally, she can teleport through TVs that appear on the map, allowing her to get the drop on any Survivors that dare enter her range of influence and destroy them with her supernatural abilities.
Sadako isn't the only Ringu character joining Dead by Daylight Mobile. Yoichi Asakawa is coming to the game as a new Survivor. In Ringu, Yoichi was only a child, but in Dead by Daylight Mobile, he is an adult investigator with the ability to stun Killers, as well as support injured allies and increase their movement speed so that they can escape from their pursuers.
During the Sadako Rising collaboration period, players have the opportunity to obtain limited-time crossover Outfits, the Sleeping Blossom for Sadako, and the Paranormal Investigator for Yoichi Asakawa. Sleeping Blossom is exceptionally special, as its Platinum version gives Sadako an exclusive Memento Mori animation, allowing her to dispatch the Survivors in a new way.
Dead By Daylight Mobile Will Feature New Limited-Time Events
Dead by Daylight Mobile will give players many reasons to return, as numerous limited-time events are being prepared for launch. As players complete tasks and overcome the game's challenges, they can earn exclusive rewards such as the [Portrait] The Onryō and the Portrait Frame: The Onryō. Furthermore, fans can start earning in-game items right now by inviting friends to participate in the Cursed Tape event. which will grant a Sadako Crossover Torso that can be used during each player's journey through The Fog.